Dear AGS
No way a weapon that does all of the below so well:
Crowd control
Creating space
Closing distance
Do extremely high damage
Have incredible close to medium range capabilities
Apply stun locks (esp. with the popular War Hammer combo)
Chase targets
Group targets up
Can also do the following right?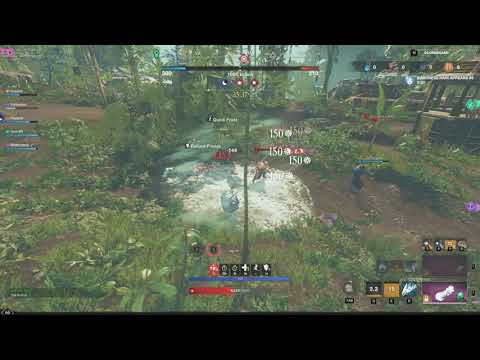 I took six screenshots, and Great Axe is able to traverse 3-4 (!!!) body lengths, more than even what my three dodges can do, and still kill me. Note that even if the hit doesn't connect, the lunge still moves him forward. He can just keep swinging until the lunge catches up to me.
WHAT?!
No weapon in the game has this lunge + auto-aim ability. None! None of the melee weapons have it, none of the ranged have it, but only the Great Axe, which is already incredible without this crazy range, has it.
Not to add - the Great Axe lunges ignore slows (as shown in my Ice Storm) and ignores being rooted (in Ice Storm, not shown here).
Did Modern Warfare 2 leak into New World and there's Command Pro that we don't know about? There is no way one weapon (combo'd with another weapon) is supposed to do this much right?
New World is a game about skillful PVP + outplays. You can use movement, dodges, and abilities to outplay your opponents. Where on earth does this clip show any skill or outplay to you, AGS?
FYI - this is the meta on our server now for all Outpost Rush, War, Open World PVP, and more. It is very fun to play against. Very fun.