Hi, I'm a player who has only stick with musket & rapier since launch.
Also I do a lot of pvp such as duel, war, field, making a video for them.

[It's playlist, btw]
Let's get into it.
1. Current status of the musket.
-Low basic damage, lack of burst, only sustained
Because musket uses hitscan that easier to hit something,
the damage value is much lower than bow/mages, and yeah, It is a sure thing.
However, this makes musket damage against heavy armor is a joke.
[Lv 60, 570 GS musket, shooting at tank HA gives around.
700~800dmg on a body, while the head is 1200~1300]
They are only strong against light armor, currently.
[Usually hit 1300~1500 on a body / 2100 on head]
Also since we don't have burst damage capability,
there is no way to kill "HA/Healer" too, but It's common problem for
the most weapon now so hopes it is addressed as a good direction for both DPS / Healer.
-Active skills.
We don't have a "Burst / AoE" skill while
Single DPS is not that great, because low damage of the musket.
All of the 6 skills are have at least 1 disadvantage.
3 Overload shot types have to reload, which can't move.
Trap makes you walk, not run.
(Actually, it's fine for me, cause the "scent of blood" is great, still hard to land it though)
The shooter's stance locks you into position.
Sticky bomb - 3 seconds timer to an explosion
while it's already hard to land on target, moderate damage (Fire, 175%) with awful passive.
Gain 40 stamina on hit (Seriously? Why do I need that on the attack, not utility?)
Only direct hit 3 seconds slow (Is this joke?)
-Passive skills
The current only worth that must have passives are these.
Tactical reload - Dodge reload weapon for every 6 sec
Hustle - 10% movement speed after dodging for 3sec
Ballistic advantage - remove damage falloff
Weekend defense - Increase stamina damage against shield blocker.
[Actually, its effect is so small, not worth but better than nothing, that's why]
What about others?
All self-buff passives are gone, whenever swapping weapons while it is
essential to PvP that using musket reload skip, as you can see on my video.
Headshot-related passive Hitting head is not easy already, also not rewarding much too.
Just shooting at the body more is efficient if the aiming head takes long, because of
poor basic damage multiplier. [It can be improved by getting "Vicious" though]
Penalized on exhausted status
Did you guys know that reloading musket on the exhausted status causes
takes longer to reload & unable to swap weapons, while none of other weapons doesn't
have a similar penalty?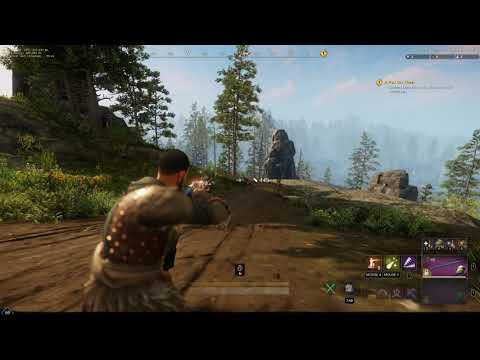 2. Suggestion.
First of all, remove the reload / impossible weapon swap penalty on exhausted status,
it's unfair while other weapon doesn't have them at all.
-Possible payback for what I want
If you guys think that should give a penalty before
buffing or changing musket, consider this.
Add recoil.
Add ADS sway.
-Active skill changes
All overload shots.
When the musket is loaded already, remove reload process.
If it is empty, apply overload shots reload takes only around 0.5 seconds.
At the current stage, the musket can't utilize skill often, even its cooldown is gone,
during combat, need to remove/negate this thing.
Also, this makes the combination of overload shots can be used as
burst damage, which we don't have.
[Assume this will make all muskets will use Trap + 2 overload shots though]
Sticky bomb
Give basic "Blight debuff" or make it additional passive, if it is too much.
Its current design is not trapper at all too.
Doesn't have a single basic debuff, only came from passive which requires a direct hit.
[It expire 3 seconds, can't use the benefit of "Lethal combo" easily at all]
If you gonna keep maintaining the timer thing, give something that can be rewarded.
Current only 175% damage? Joke.
[Even its fire damage, can't be improved thrust damage increase]
Sticky bomb
P1 - Reduce enemy 40 stamina on impact.
P2 - Apply for blight status on impact, 5 sec.
Or
Completely change this thing into "Caltrop bomb" (Explode when its impact)
which can give sustained AoE damage & Slow.
Caltrop bomb - Apply spike occur slow on the area for 6 seconds
P1 - Add bleed damage on area, it expires after 5 seconds they out of caltrop.
P2 - If the enemy stands on the caltrop area for more than 3 seconds, root the enemy.
Shooter stance
Increase stamina damage against the shield block.
Actually, Idk how can I touch this furthermore.
I just hope this can be used as anti CC method by giving initial 1~2 seconds
super armor status and musket shooting can't be disrupted by
normal light attacks after it expired, cause these are part of active skill.
Maybe damage buff during this?
Idk, it's useful as a group/field fight, not designed for a 1v1 fight so…
That's why I usually bring "Shooter stance / Sticky bomb" at the same time
which makes me have 4 active skills, even I can use only 3 of them.
Swapping for suitable situations, which causes a waste of my skill point,
cause using azoth everytime is painful.
Trap
Did you know you can "Dodge over" it?
It can be broken by a light attack too.
At least it shouldn't be dodged over, directly.
Possibly gives DoT too though… maybe I am greedy about it.
Also "Double trap" passive break cooldown timer.
It's not working properly so just hope to change it to a 50% cool-down reduction.
-Passives
I think All Self-buff passive should be changed to debuff, but it's only affect
my play style which swapping weapons frequently so maybe it's not a common thing…
Anyway, I think All forms of headshot related passive should be changed to
some "Quick scope" (Seconds should be counted after fully ADS) type.
The example will be like this.
"ADS gives ~% Empower for 1.5 seconds"
"Successful consecutive 2 shots made within 1.5 sec ADS will reload weapon instantly"
I know it does not match IRL sniper but It's game.
I think this way will reward musket players much easier than keep landing a
headshot, while still difficult to achieve.
Identical cooldown indicator of tactical reload.
Too many things use samme clock icon,
while this thing is most important to musket.
-Useless passives I didn't write up
-Sharpshooter tree
Greater Accuracy / There is no penalty for hip firing.
*Hip fire still slower than ADS fire, there is a delay.
Heightened Precision
Landing shots while ADS generates stacks that provide 2.5% damage per stack. The damage boost goes away after 6 seconds of not landing a shot or when the player stops ADS.
*Unable to maintain a stack, at least in PvP.
Called Shot / ADS for more than 3 seconds to get 5% increased damage.
*Who gonna spend the whole 3 seconds watching somebody when in combat?
-Trapper
Back it Up / 10% increased movement speed if a target is within 8 meters.
*It's already failed if the enemy standing that nearby as a musket.
Energy Burst / Hitting a target with an active debuff replenishes +5 stamina.
*Both conditions/rewards are so awful.
Overhaul these thing to something useful.
-Adding armor penetration
Because of low base damage against heavy armor, I told before,
it can be negated by adding armor penetration.
I'm not talking about it must have a flat high value all time.
It can be achieved by changing or adding passive, such as…
Puncture - Gives 5% armor penetration on musket attack, also whenever
musket hits on target, apply puncture debuff which decreases 5% damage resistance
against musket only, 6-second, Max stack 3. [Result in 20% armor pen]
Additional mechanic of stamina damage
Musket doesn't have a heavy attack, which makes it harder to against shield blocker.
Hope shooting at *Leg / Head" will cost more stamina to block.
3. Closing
Well. I didn't write them up like "It must be achieved" mind.
I hope they change some mechanics so
at least competitive musket PvP users do not feel unfair,
because of its weapon design limitation.
The detailed value should be considered by AGS, not me, it's their job.
I just give a concept of what I think to them.
Hope it works, cause it's painful to play musket currently.
Even seems I can make some of the good performance as video
but It's designed limitation makes me feel so bad nowadays.
*You can see that I can't use 3 active skills often even they are not on cool-down.