Since the launch of game, healers in my opinion have been what this game is based on. Whoever has better healers or more healers normally win and dominate. If a healer is even moderately good, it is extremely hard to kill them and the ones that are good at healing, good luck killing them because it probably wont happen. Almost every other class in the game has extreme limitations. Without a healer, they most likely will not survive in scenarios they normally do with healers.
We need some kind of balance with healing overall. Plagued crits/strikes just don't feel like they get the job done and abilities with plague don't seem to work well because of how much people iframe. I barely see people land roots because of it. I feel in order to balance this game with pvp, everything needs to have a counter and there doesn't seem to be a counter for lifestaff/rapier. It's been the go to for healers for like 6 months. Almost every healer I see has a rapier. How do you kill them if you can't catch them?
In order to solve this issue, healers need to become killable. I'm not suggesting to make it easy for other players to kill them, but to make it possible for other players to kill them. A good healer cannot be killed by anyone in a 1v1 scenario. I don't care what kind of arguments people want to make, I 100% am saying they cannot be killed 1v1 if they are good with lifestaff and rapier.
So here are some of my suggestions to make it a little more balanced:
Lights Embrace & Divine Embrace puts healing potions on cooldown & other way around, healing potion puts Lights & Divine on cooldown:
Every other player only gets healing pots, but healers get a healing potion and self casts with low cooldown time. I can't think of the cooldown for health pots off hand, but a healer can self heal with lights or divine embrace at least 3-4 times before a health pot is up. You cannot kill them because they always have access to some kind of heal. They have way too much sustain and evasion with rapier.
Reduce healing to self:
Instead of putting potions on cooldowns, another option would be to reduce the amount of healing that healers do to themselves. This would make healers have to rely on other healers to help keep them alive. Having a 25% reduction in self heals I feel would be a good start, but healers in most games I've played are squishy and have to position themselves better. Right now I see healers right up almost on the clump but reducing the amount of heals to themselves might make them play further back.
Reduce the damage healers do to other players:
Healers already have the advantage of sustain, so why do they also have the ability to kill other players? A healers job should be healing, not killing. I'm not really understanding what the point is in letting healers be able to win almost any 1v1 or at least make it impossible to kill the healer.
The way I feel about healers is that they were given some kind of cheat to have an advantage over everyone else. Before anyone rushes to judgement, my first 3 months of this game I was healer main. I stopped playing healer because I didn't feel like it was much of a challenge. I did feel like I was cheating and had an unfair advantage over people. Nobody could 1v1 me and I could just lay in my sacred and nothing could damage me.
I've decided to include some of my gameplay footage along with a video I found of someone else using void blade with their lifestaff. Feel free to post any ideas you have that could help balance healing.
My Gameplay:
(Using under 600 gs armor and haven't played healer much in 6 months)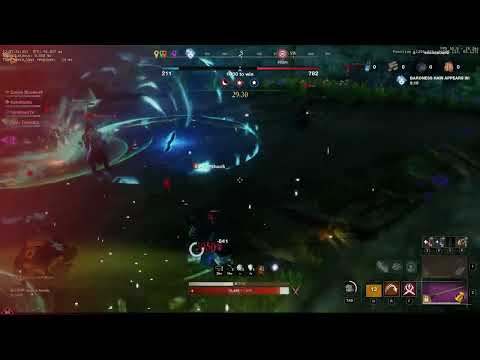 Other Gameplay:
Some of my final thoughts: Make this game less about healing and more about pvp. Healing should be a plus, not what pvp is based on. In my opinion, this is what has ruined pvp the most.