Greetings
On behalf of all the Perla Nera Guild: we are fed up with the constant direct attacks our guild is receiving. It's more than a week that we get constant threats of mass reports, while being insulted and vilified by the opposing guilds just because people are unable to win against us. So, with this letter we are here to answer the UNJUSTIFIED allegations made by a large part of the JOTUNHEIM SERVER.
I remind everyone that at the beginning, when we lost the first few sieges, the atmosphere was very friendly, GG in chat and no drama. The same "HellHounds" complimented us on how we played both sieges, but obviously after the first defeats everything degenerated … and they started to fight us with posts, videos, insults, etc …
In the attachments you will find various video clips of how PERLA NERA guild, in the siege and open world, behaves in an ABSOLUTELY REGULAR manner (We streamed every single siege LIVE on TWITCH precisely because we have nothing to hide), unlike some of our accusers …
An example of the persecution we get comes from videos of "23DRAW" where he accuses us of immortality while doing a 1v1 against one of our healers… and we can clearly see that the healer is simply using healing spells and potions to keep himself up… https://www.youtube.com/watch?v=e-q77mNrIYw this is not immortality but simple spell management and knowledge on how to play New World!
We also have videos in the attachments where some member of the purple faction uses a cancel animation MACRO to spam the light attack of the axe weapon with basically no delay, thus creating such a high damage as to break an entomb instantly … and then they have the courage to accuse us OF WHAT ??? This behaviour and this macro it's also filmed in PvE action in Myrkgard yesterday by some of our members.
As their sieges started going wrong and they kept losing, followed by the general discontent of the purple faction much more populated than ours, they started to publicly defame us in chat, writing posts in this forum or posting completely FALSE videos … creating these FAKE accusations which have led a LOT of people to hate and insult us without even understanding the effort behind how well organized and successful we are in NewWorld.
https://www.youtube.com/watch?v=iv8e-kk70X8 Perlanera war lag! - YouTube
Initially we did not care too much about those blaming us and we didn't need to defend ourselves as we knew we weren't doing anything wrong. We are simply playing in New World with the tools provided by the game itself such as Wizards ice glove combined with the Fire Staff (obviously also available for our opponents). Apparently this causes some lag and a sort of delay in the server that does not depend on us and that in any case it's a disadvantage for both teams during a siege…this is something that we as Perla Nera never intended to abuse of and that we found out only after the issue was brought up to our attention recently…
We do not intend to abuse of any exploiting mechanic but we can't even participate to sieges asking our mages to change weapon or not to use certain skills that have been grinded and upgraded in order to fit playstyle and preferences of the players to simply enjoy the game with the tools provided by the game. Is not like you're going to ask your healers not to heal because otherwise the server gets laggy, do you?
Because of the lag we also saw motionless people who did not take damage but we simply accepted it was just lag that could not be controlled and we kept going forward to improve and become stronger instead of wasting time reporting enemies for lag or slandering other players resulting in being toxic and trying to sabotage other guilds.
But at this point, where the situation is getting out of hand, spreading on the forum and attracting the attention of the mods, we felt compelled to answer for the image of the guild itself and for all OUR PLAYERS … we are over 300 in the Perla Nera and we have the entire Covenant faction that can testify what we just wrote! As we cooperate with our entire faction!
We want to communicate to the Jotunheim community that it has now become impossible for us to write without risking getting a ban due to the false and useless mass reports used to mine and sabotage our guild. We also want to add the following statements:
-We have been accused of exploiting the siege's war using ice gloves to generate lags when it is also used by the opposite teams. https://www.youtube.com/watch?v=cLjyxbQ2EP8
-We are constantly accused of cheating from the same ones that use various macros to spam light attacks with skill cancellation (We went to look for evidence and proves before making an accusation) https://www.youtube.com/watch?v=8r4re_L0gzY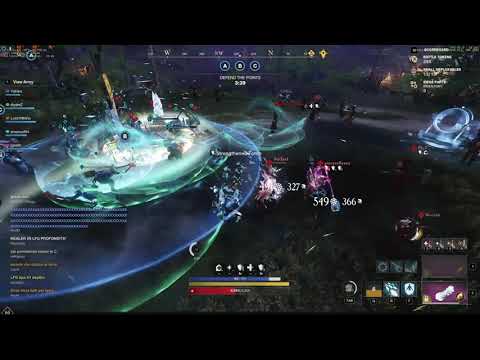 We only report those who lack respect and use different kinds of insults resulting in high toxicity and we do not use mass report 'for fun' or to undermine other guilds. We do not need to get to this level as we prove our bravery, organization and skill directly on the battlefield and with facts.
We are very sorry to have found ourselves in such a situation, as we have reported countless bugs precisely because we believe in your project and we hope it can have longevity as most of our players have been following New World since Alpha 1 becoming veterans of the game.
Just having to make an official statement to defend ourselves from these accusations seems slightly absurd and ridiculous! Instead of simply accusing a rival guild of something that doesn't exist, they should try to improve their gameplay in NEW WORLD to counter us in game by playing on the battlefield instead of on the forum or threatening other players with bans!
See you on Jotunheim and on the battlefield! Stop with these FALSE and USELESS accusations against an entire guild or faction because Perla Nera and the covenant play by the rules WITH NOTHING TO HIDE and all our Siege are always LIVE on TWITCH!
P.N. and the Staff