I have a decent amount of experience playing with VG and against VG. Here's what I can tell from my personal experience.
1) Playing with VG:
No melee weapon can trade with me in a 1v1. This is due to several things: multiple life steal passives and perks giving it a huge edge in survivability, Nullifying Oblivion which removes ALL offensive and defensive buffs from your enemies, extra healing de-buff to prevent melee builds from self-healing, and several Fortify buffs with a relatively easy proc condition.
Let's take Hatchet for example. Hatchet is currently the strongest 1v1 melee weapon in the game. Against VG, it does not stand a chance because not only can I completely remove Berserk, Empower, Fortify, and even Defy Death with 1 Oblivion cast, but I can also out-heal Hatchet with my life-steal. Not only that, but VG also has 2 sources of DoTs, whereas Hatchet has none.
Against other melee weapons, VG easily stomps.
Against ranged players, VG's main advantage is its heavy attacks have a built in 20% life steal. If you play a ranged VG build with the right abilities, you can often win the trade because of your built in life-steal.
There are 2 weapon combos with VG that are utterly broken. Keep in mind, I am talking about competent users. Incompetent players will die regardless of what build they run, so it won't matter talking about them.
The first one is VG/Ice. It is a broken CC build because it abuses the potency of Roots. Roots are much stronger than stuns and knockdowns in this game because it does not break when your teammates attack the target and also go through grit/uninterruptable. This means you don't have to worry about a random ally breaking your CC and allowing the target to escape. With roots, your entire team can freely hit that person for as long as the root lasts and it's always a guaranteed kill if you manage to root someone. The VG/Ice build takes advantage of this CC mechanic by using Ice's slow and root potential and VG's root potential. If you play in an OPR on a point, you will see that a team with just 1 VG/Ice has a huge impact because of the amount of CCs it can dish out.
Another broken weapon combo is VG/Life. This is literally a tank build with enough damage to 1v1 any melee setup but VG/Ice. You have 3 HoTs from Life staff to keep you topped up, and Sacred Ground buffs VG's life steal. This means if you stand on your Life staff's heals and spam VG attacks, you will never ever die in a 1v1. It requires at least 3 players to actually kill a VG/Life build. The amount of value that build brings is unparalleled and it can easily replace the frontline.
2) Playing against VG
Because VG is the current meta for melee builds on my server Olympus, I have fought plenty of VG players. From my experience, inexperienced to average VG players are counter-able and can be killed. They mindlessly waste their cooldowns and don't actually try to dodge your abilities. But that's not who I'm talking about. The good VG players truly bring out the best of VG. When I play against those players, it's pretty much impossible to outplay them because not only do they run meta VG builds (VG/Ice or VG/Life), but they know how to dodge all your abilities. Not only that, but they will purposely wait for you to use your abilities, then they drop theirs to strip you off all your buffs. That means the fight ends up being whoever can land more light attacks and take the least amount of light attacks.
Here is where VG dominates. You simply cannot trade with a VG player as melee, period. They have too much life-steal and 2 amazing perks that remove all your buffs and give you a healing debuff. What usually happens is when a VG player drops Oblivion, you run away and bait him out of it. Good VG players know this and simply won't take the bait. What they will do is stand inside their Oblivion and either spam heavy attacks because the range is pretty far, or switch to their back bar weapon. If they use VG/Ice, then they will be recasting their IG CCs until their VG cooldowns are up. If they use VG/Life, then they recast their heals and heal back to full if you've somehow gotten them low, swap back to VG, right click to get mana + 10% cooldown reduction every second, and get their VG abilities up again.
You literally have to play VG or be a ranged player to engage these 2 builds. Melee builds have zero chance. So when I talk about VG being broken, I specifically mean VG vs melee weapons. If people complained about GA being way too strong, then it makes zero sense that they aren't also complaining about VG being way too strong.
3) Suggestions for balancing VG
VG by itself is fine. It's the perks that are way too strong. Nullifying Oblivion removing every single buff counters every melee build in the game. At best, it should only remove 3 buffs. Voracious Blade giving 30% life steal while below 50% is also way too strong. If you land a 1.2k non crit light attack on someone, you're healing for 360 just off that perk alone. Combined with VG's life steal passives, you can reach 40-50%+ life steal even with diminishing returns. A 50% life steal means you are healing for 600 HP off a 1.2k non crit light attack, which is just slightly less than a Sacred Ground heal lol… There is no way any melee can trade with that. The life steal should be reduced to around 10-15%. Putrefying Scream is okay because it's needed against healers, so I don't think it should be tuned down.
** Video clip of a VG/Life player with 50 Focus tanking my 320 Dex build:
My Gear: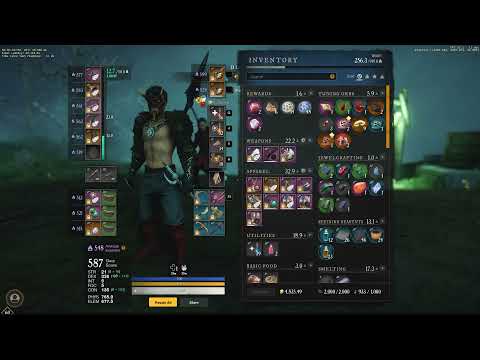 Another clip of VG wiping a group in a war: